This week's post comes from Laura, a dear friend and fellow solo traveler from the Prairie Region who recently visited St. Croix in the US Virgin Islands. Laura sent in her story as a tip for other travelers to follow: BE PREPARED!
Laura writes: "In general terms, I'm a pretty capable person. I can handle most things well on my own, and am confident enough in myself that most challenges are easily met. When the opportunity came up recently for me to visit the Virgin Islands, I thought, "I'll just wing it. I'll figure everything out once I get there. It'll be fun!" Well, it certainly was an incredible experience, but if you're heading to the islands any time soon, take my advice and be prepared!
My journey began with an early-morning flight out of Fargo, ND, connecting through Florida. On the later part, I found myself sitting in a center seat with a kind lady on my left and a nice man on my right. The lady was from the island I was traveling to (St. Croix), while the man was headed there for work, something which he seemed to do often. As simple as this sounds, I am so thankful for these two people, because, had it not been for them, who knows what would have happened to me!
For starters, did you know that folks drive on the left side of the road on St. Croix? Well, I sure didn't! That was a helpful little tidbit of information these kind fellow-travelers shared. Secondly, when it comes to mobile phones, I discovered talking with my row mates on the plane that there is no Verizon coverage on the island, only AT&T. THAT might have been helpful information BEFORE I got on the flight! You see, I use Straight Talk, so I basically had no mobile phone service for the duration of my stay on the island. Now, depending on your perspective, that may sound either relaxing or terrifying. Let's just say that I was less than impressed.
The business man beside me was able to share a clever way to get around the lack of cell service when it comes to navigation: the first chance you have to connect to WiFi, download the Google Maps app, and then download the map of wherever you're going to need navigation. Just to be safe, I downloaded the whole island of St. Croix. Once you've done this, you can still use navigation services even once you've left the WiFi coverage area. Let's just say this was CRITICAL information that I would be needing later…
A third bit of knowledge my new friends shared was that the people of St. Croix are very polite. However, if you should appear rude to them, they will utterly ignore you. Thus, when passing a St. Croixan, be sure to offer a "good morning/afternoon/evening" greeting. This little bit of kindness will go a long way to making your stay a comfortable one. It may seem unnatural for those of you coming from larger cities, but, trust me: it means everything to the smiling natives of this beautiful island.
Along the same lines, the kind lady on the plane informed me that on the island, everything moves much slower. You have got to be patient. Folks just take their time on St. Croix, and this has nothing to do with being rude or inconsiderate. It probably just has everything to do with the incredible weather and natural beauty which surrounds. I'd move a little slower too if I lived in paradise! Now, all of this talk about kindness and slowness applies to traffic on St. Croix as well. Expect people to stop dead in the middle of the road to allow you to pass or turn. And when they do, you can also expect them to toot their horns–not out of impatience or rudeness, but as a greeting (remember the "good morning" rule?). So, if you're driving on the island and someone toots their horn, please think twice about the gesture you give in response!
Well, at last we arrived. I used the airport WiFi to download the map onto my phone, collected my baggage and rental car (an adorable two-door jeep), and began making my way to the hotel. The hotel I was staying in seemed to surprise everyone as they thought it was still closed after the last big hurricane. Needless to say, this worried me some. Now, the journey from the airport to the hotel was certainly an adventure, to put it nicely. I had been warned by the lady on the plane that my hotel lay on the far side of a large mountain known to locals as the "beast". The road, she said, would be long, steep, and full of twists and turns. Oh, and it would be dark, as there are no street lamps. She wasn't kidding.
I left the airport at about 11pm, and, sure enough, the road to my hotel was pitch black. To make matters worse, the island was clearly still recovering from the devastation of November's hurricane, and this recovery was moving very slowly. The roads were terribly potholed, and the natives, it appears, will drive on whichever side of the road has the fewest potholes. This led to more than one terrifying moment when an approaching car seemed to have no qualms about crossing into my lane, only switching back at the last second.
Somehow I made it the 40 miles to my hotel. I was relieved to have arrived alive, but was honestly surprised and disappointed by what met me. Due to the hurricane damage, the hotel only had about half of its rooms up and running, and none of its amenities. The wonderfully kind man at the reception desk greeted me and then took me to a functioning part of the hotel for check-in. He was impressed to hear that I'd made it from the airport, as so many people panic and pull over at some point to call the hotel! I told him that simply wasn't an option for me (remember: no cell service!), but in the end we both had a nervous laugh at the wild adventure my first hour on the island had already been.
At this point, it may seem like a lot of complaining, but that's just because that first night was truly insane. From there, however, my stay got better by the day! My hotel was absolutely beautiful, in spite of its challenges from the hurricane damage, and that wild ride up and down the mountain became breath-taking in the bright sunlight! From there, you can look in any direction and see gorgeous turquoise water gleaming in the distance.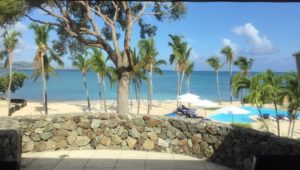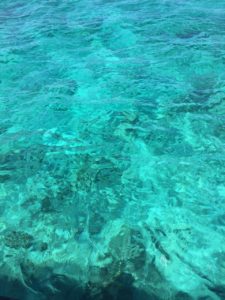 Just as I'd been told, the people of that island were some of the nicest, most polite I have ever encountered in my life! But, honestly, the best part of the whole experience was the food! You simply can not discuss St. Croix and not rave about the food there.
A few of the more notable places to eat on the island include La Reine Chicken Shack at 241 Estate Pearl in Kingshill , which, perhaps unsurprisingly, features wild chickens roaming about the premises. This place is literally a shack, but the food in incredible.  Make sure you call ahead, though: they get really busy over lunch and dinner!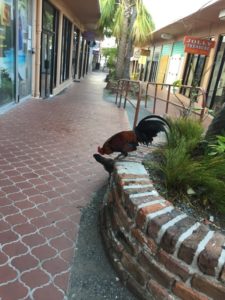 The Cast Iron Pot was also amazing, and had the island's single best Johnny Cakes. Not familiar with Johnny Cakes? Well, they're basically fluffy, sweet little buns that are to die for. They're also something of an island specialty. Right along the pier you can also find Rum Runners. They offer an awesome view, as well as my favorite island drink: the St. Croix Cheesecake (made from Croixan Vanilla Rum). Honestly, you gotta try it to understand! Also along the pier, be sure to check out Angry Nate's and their incredible homemade chips and hummus! Now, I think the finest steak I have ever had in my life was at Savant, a tiny, expensive little restaurant. It's pricey, but worth it! However, my favorite was Common Cents Bar/restaurant at 2110 Company Street in Christiansted. Folks, their food was mind-blowing. Best cheeseburgers anywhere on the island, and they even had live music! Just awesome. I remember my server at Common Cents was a guy named Daniel. He'd left a high-paying/high-stress job in Los Angeles to come be a waiter on St. Croix. He said he hadn't regretted it for a second, even with the hurricanes. After two weeks there myself, I began to understand completely.
Now, aside from eating, I have to recommend the Buck Island snorkel tours. The tour boat agency there is so easy to work with, and the snorkeling was amazing. I definitely recommend it!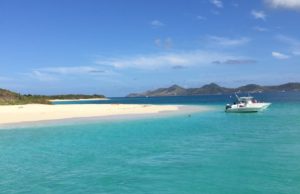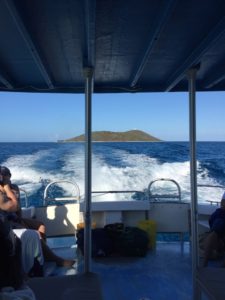 Something else you simply must see for yourself is Point Udall. Located on the eastern side of the island, it is the easternmost point of the United Stated. The drive there is just incredible, and once you arrive, a nifty monument marks the spot!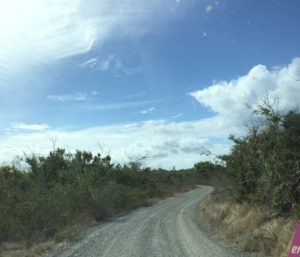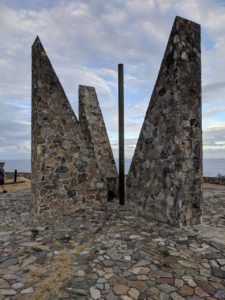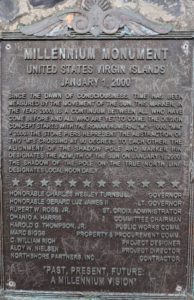 So, if you're fortunate enough to find your way to St. Croix, do yourself a favor and be prepared! Familiarize yourself with the roads to and from the airport and around your airport, be prepared for a lack of cell-service, and take note of the polite culture of the island. There's a million beautiful sites to behold on the island (and a few terrible ones, too!), but particularly for the single traveler, preparation is key!"
Thank you, Laura for your submission!