Greetings from the North Dakota All Veterans Memorial on the capitol grounds in Bismarck, North Dakota!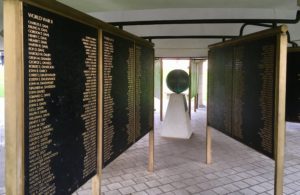 This memorial honors those who served from across the state, especially remembering those wounded and slain in service to their country.
The memorial is a quiet and solemn place nestled among trees just beside the North Dakota Heritage Center. I recently explored that amazing museum here. If you would like to visit the memorial, it can easily be found while walking along the capitol mall in front of the capitol building in Bismarck.
Wish you were here!