One of the more thrilling and yet potentially stressful parts of flying through America's prairie states is navigating the many airports which dot the region. These airports can vary greatly, but, without a doubt, one of the very best is the one at Minneapolis/St. Paul (MSP) in Minnesota.
Now, one of the first things to note about this airport is its size. To put it simply, it's big. Super big. According to the brochure provided at any of the several information booths in the airport, MSP, as it is known, is the 14th busiest airport in the United States, and the 16th busiest for passengers served. Wikipedia reports that in 2017, more than 38 million passengers passed through MSP while flying the prairie skies, and that it's the largest airport in the Upper Midwest region (encompassing Minnesota, Iowa, Nebraska, the Dakotas, and Wisconsin).
Now, an airport that size can be as wonderful as it can be terrible. So, if you're flying through MSP, do yourself a favor, and check the connection times before you book your flight. As I passed through over Easter, I had a choice of flights which departed either about 45 minutes apart, or more then three hours apart. I chose the latter. There's nothing worse than running "Home Alone" style through an airport as expansive as MSP.
You might wonder, however, what you would do with more than three hours in an airport. Let me assure you, finding something to do is never a challenge at MSP. The entire airport is designed to feel like a cross between an art gallery and a shopping mall. Displays of beautiful art and architecture are everywhere, as are conveniently positioned shops and restaurants. It's not even uncommon to encounter small spas and chiropractors along the way between gates! But the best part, in my opinion, is the Mall located at the north end of the airport, and connecting the D and G gates.
Aside, perhaps, from the awesome shopping opportunities I've encountered in airports like Tel Aviv and Brussels, I have never seen anything quite like this. As you pass down the great hall, a myriad of interesting shops line both walls, in addition to many restaurants and even a food court with everything from Arby's to sushi! There are even small rides for the children to relax on, and, keeping with the random acts of beauty found throughout the airport, there are often small live music performances to be enjoyed.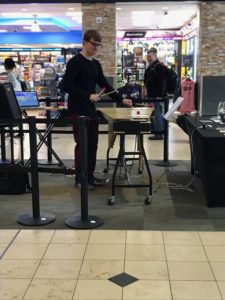 Two restaurants which you've got to try while in MSP are the Rock Bottom, and the Stone Arch. The Rock Bottom has a comfortable pub vibe, and I enjoyed feeling more like I was sitting in a TGI Friday's than an airport while I enjoyed my dinner pre-flight. In case you're wondering, I decided just to go with the quesadilla appetizer, which was more than adequate for a meal, and which I found to be exceptional in flavor and quality.
The Stone Arch is located farther down the hall, and has more of a street cafe feel to it. Here, the seating can be somewhat competitive, but if you can find a spot, the staff are quite friendly, and I would most definitely recommend the Caesar salad. I found it to be filling, without making me feel weighted down as I continued on to my gate.
Once it's time to find your gate, you'll find that they range in size and accommodation from the very simple (such as B-16, where I flew to Fargo, ND), to the much more comfortable D5 (where I flew to Washington, DC). At D5, for example, a large number of booths fill the gate, each one featuring a table and a mounted tablet. From this computer, one can order warm food (I had the pomme frites, which honestly reminded me of the frites I used to enjoy while living in Belgium), in addition to surfing the web or playing games.
There's a credit-card slider for the food orders (which are brought straight to your booth!), but the Internet and games are free. I have to say, enjoying some classic Belgian frites while reading the news and playing a few games has got to be the most relaxing way to wait for a flight that I've ever experienced!
Of course, for some, a peaceful place to simply read a book is more their style, and for that, you have to experience the observation rooms at MSP. Clean and quiet, with panoramic views of the runways and even the Minneapolis skyline, they're the perfect place to rest and recoup between legs, wherever you're flying to!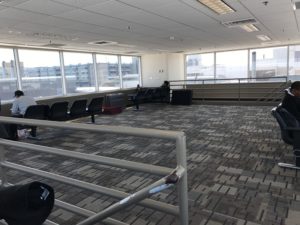 So, if your travels to or through the prairie regions involve flying, do yourself a favor and experience the comfort and excitement to be had at MSP! Now boarding Prairie, Party of One!