One of the things I've come to realize about life on the prairie is that some of the most unexpected places and people are tucked away in some of the most remote spots. If you're lucky enough to find them, however, then you can often expect a real treat! A case in point is the city of Wishek, North Dakota. Located in McIntosh County in the south-east corner of the state, Wishek had about a thousand residents at the last census. A quaint, quiet, but industrious little town, Wishek is the kind of place one finds quite by accident while out road-tripping. I've been there a couple of times, and can honestly say I enjoyed each visit.
If you should be lucky enough to find yourself in Wishek any time soon, I'd recommend you stay at the Wishek Inn.
This comfy hotel is owned and run by Charles and Brenda Gray, a wonderful couple who also operate a convenience store out of the hotel lobby.
The rooms in my experience are quiet and clean, and perfectly adequate for a short stay in this lovely town. If you do stay, be sure to tell the Grays that JD sent you! And, for the record, I haven't been paid to say any of this, I just honestly like the place!
Now, as for things to see and do, Wishek has its own peaceful park and other nice family spots, but the real draw for me is their world-famous sausage. That's right, sausage!
Stan's SuperValu on Beaver St. seems like any other small-town grocer, but hidden in its meat department is a treasure you have to try to fully appreciate. The meat manager, Willis Caldwell, tells me that George made their famous sausages for 42 years and still handles the seasoning, but that he took over about eight years ago and now processes all the sausage.
On a recent visit, he gave me a behind-the-scenes look at the smoker where the magic happens, and told me that at their busiest time, between October-December, they produce upwards of 2,600 pounds of the stuff per week! He says they'll easily ship out 80 UPS packages a week to hungry customers from Washington to Maine, and all the way down to Texas. About the only place they haven't sent sausage to yet is Hawaii! And it's not just folks stateside who crave the sausages from Wishek; Willis tells me that they've even sent sausage to the Middle East!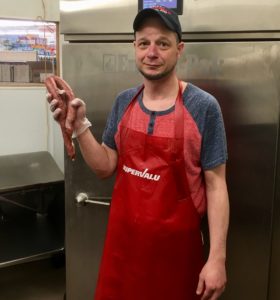 Now, my personal favorite is their fully-cooked bologna, which for me is a meal in itself, but there's also a smoked country-style fry sausage that comes in potato, cheddar, garden, jalapeno, taco, and sauerkraut flavors. That last one is particularly popular during Wishek's annual Sauerkraut Days.
I may not make it to Wishek often, but with a comfortable place to lay my head under the Grays' hospitality, and with sausage as incredible as the hidden treasure at Stan's, it's always worth the trip!